Notes regarding the 1998 QST Spectrum Analyzer
Updated on 27 March 17.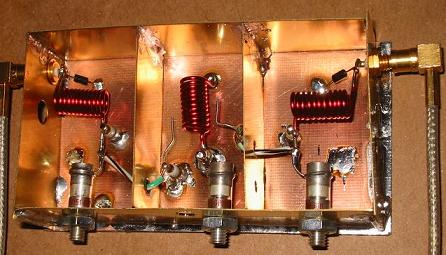 This photo shows the recommended 110 MHz bandpass filter. Click the photo for details.

These items relate to the Spectrum Analyzer that K7TAU and I described in QST in Aug and Sept, 1998. To obtain the original QST articles, click here on August and September.

The Tracking Generator Modifications and the 13May09 postings include information that relate to the spectrum analyzer.
Early Spectrum Analyzer Update (June 2000) Includes data on crystal filters
Schematic for 2 dB/div mod
Recent Spectrum Analyzer Updates (Nov08)(26Apr11)
Correction--IF and AD8307 Log amp. (click to see partial schematic) (24April2017)
RCA Plugs and Sockets (Dec 02, Aug 06)
Mixed Form LC Bandpass Filter (17Aug12)(19Jan16)
Using a DSO with the QST Spectrum Analyzer (21Aug13)
The following discussion includes info on an updated (recommended) tracking generator design by K3NHI and K5IRK.
Tracking Generator Modifications (Jan 07, 2 April 10, 27feb12)
SA-TG Update 13May9.pdf (13May09)
Bandpass Filters without Exotic/expensive Trimmer Capacitors (vu2ese) (10Nov14)
Road maps (layout locations) for 1998 Kit boards. (27Aug15)
Click on the board of interest. These are GIF files. (Many thanks to Adrian, YO6SSW, who had the layouts.)
2nd mixer
IF Filter, RBW Relays
IF Amp and early (MC3356) Log Amp
VCO, Front End
Timebase and Sweep
Tracking Generator