A Hayward Family scrapbook
Updated: 11 Oct 12
(You will find some family URLs mixed in with the photos below.)

Pop's 100th Birthday

10/10/12 is the magic date. That's the date that I always quoted when ask when he was born. We now hit the next 10/10/12, this one is in 2012. Shon and I got together for dinner with Den and Cheryl to celebrate the occasion. We missed him and wished that he could have been there, for he would have enjoyed having made it to 100. He came close. We didn't dwell on his absence, but just celebrated him.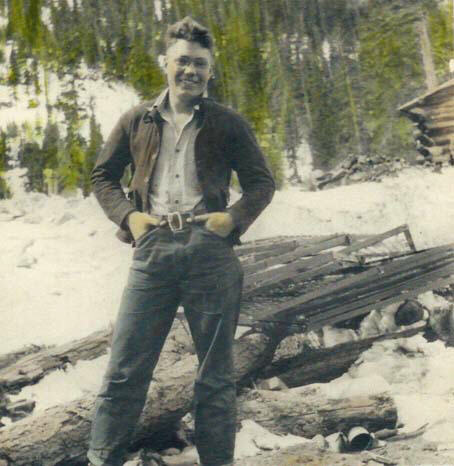 This is perhaps my favorite photo of Pop, taken in 1934 at the American Mine, near Alma, Colorado. Photo from the Robert Hayward collection -- thanks Uncle Bob!
Den and Cheryl at the restaurant. Would you believe the name of the place we went was the "Claim Jumper" and that's a gold pan above Den's head.
Shon and Wes at the restaurant.

-------------------------------------------------------------------------------------------------------------------------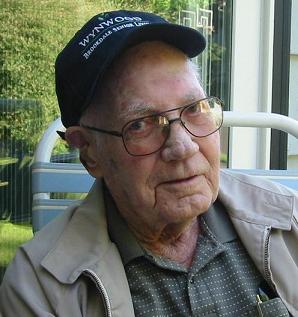 Ron Hayward, 1912 -- 2011. Pop passed away this morning, August 13th, 2011, just about two months shy of the age of 99. He had been slowing ever more in his activities, but was still hanging in there. He managed to attend and to have a really good time at a party that our boys put on for us two weeks ago to celebrate our 50th anniversary. But he took a turn for the worse about a week ago. He had been on hospice care for the past couple of months for CHF, or Congestive Heart Failure. Eventually, the congestion was just too much for his otherwise robust heart. We will all miss him.
-------------------------------------------------------------------------------------------------------------------------

My cousin Greg from Wyoming and his family visited us in late July of 2009. Greg was sporting a new, SLR/Digital camera, so he was taking a lot of pictures. He got an especially good one of Pop that he is sharing with us.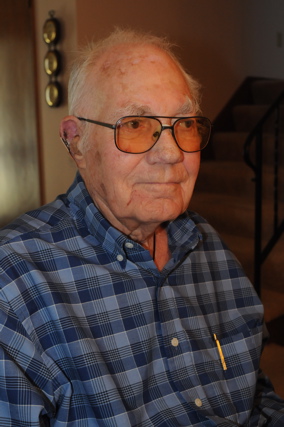 Pop in late July, '09. (Thanks, Greg!)

Of course, the big event for July was that the twins had their first birthday.

The twins are now 1 year old. This is a Roger photo -- thanks Rog.

We had a family get-together here in Beaverton at the end of May. Den, Cheryl, and Pop joined Roger and his clan for an afternoon. Here are a couple of shots from that bash, both featuring the twins. They had never met Den and Cheryl.

This is James with Pop.

And this is Will. Both boys are now crawling all over the place.


We went over to Den's house on Mother's Day of 09 for a family get-together and brunch. Lots of fun, as usual. (Den photo.)

This is an October 08 photo of Roger and Kerri's little ones, born on July 16, 2008. This is James and Will. Or is it Will and James? (This is a Roger photo. Thanks, Rog.)

This photo was taken at the end of February, 09, catching z's at our place.



Here's one of the boys playing with Grandma H in April, 09. (Who knows which one?)
This is a Thanksgiving Day 2008 shot of the kids with Christmas stockings that Grandma cross stitched for the guys. Charlotte looks on at "My Twins."
The other big event for 2008 was that Pop moved. He is now down the street from us, here in Beaverton, OR. As we usually do, Den and Cheryl joined us and we went out to dinner to celebrate his birthday on October 10th.


This is a view just after dinner. That's Cheryl in back of Pop. Then Den is in the red shirt with Shon in back of him.
Pop on his 96th birthday.

We almost always make it to the Oregon Coast at least once per year. One of those visits is for our anniversary in August.

Here's one for August 09.
We managed to get in a few other treks during 2008. We went to Hawaii for a couple of weeks in March. Then at the end of September we took a cruise along the eastern seaboard from New York City and north through the Maritime Provinces of Canada. That trip ended in Quebec via the St. Lawrence River.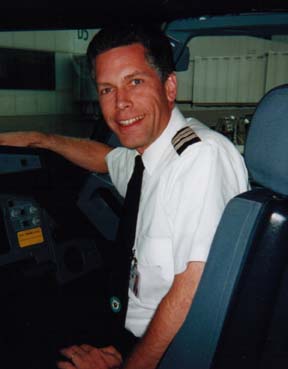 This is a shot of son Ron at work. He had a quick-turn flight into Portland sometime in 2000, so we ran out to the airport for a quick visit and a look at the cockpit of the Air Bus. (I suspect that this opportunity won't soon repeat in this post 9/11 era.)
Look at the link to Ron's web page for more shots. Ron has extensive family history information and a wonderful collection of hiking photos. See http://www.ronhayward.net The boys have their own web sites that are listed in the links from Ron's site.
Roger's web page is http://www.ka7exm.net/ . Look there for some shots of the kids.
Here's a photo of Pop at the Johnston's Ridge Visitor Center at Mt. St. Helens, July 20th, 2002. The lava dome in the center of the crater is growing from flowing lava.