Errata for Experimental Methods in RF Design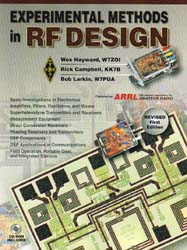 This section of the Errata is devoted to the Third Printing.
Updated (31July09, 1Aug09, 22Aug9, 29Aug9, 27Sept9, 15Jan10, 10Feb10, 21Mar10, 3April10, 21May10
1July10, 8Nov10, 28Jan11, 10March11, 5May11, 8May11, 11oct12, 10Feb13, 28Apr13, 6May13, 8Mar14, 16June14, 1Dec14,
12feb15, 21oct2015)

All following errata pages will contain markings with an icon to tell the reader the status. These are:


for those errata that were fixed in the 3rd printing.


signifying errors that are still in the third printing. They may just have been too difficult to fix.


This signifies an error that is new in the 3rd printing, or one that we just discovered.


Click on the section or chapter to find reported errors:

General Comments (17Apr9, 22Apr13, 12feb15)
Includes: DSP Easy Kits (KK7P), Dual Gate MOSFETs, Discontinued Transistors, Book CD Problem
Table of Contents
Chapter 1 (15Jan10,21May10, 6May13)
Chapter 2 (27Sept9)(15Jan10)
Chapter 3(10Feb13)
Chapter 4 (31July09)(1Aug09)(8May11)(11oct12)(8mar14)
Chapter 5 (21Mar10) (10March11)
Chapter 6 (31July09)(29Aug9)(10Feb10)(3Apr10)(8Nov10)
Chapter 7
Chapter 8 (28Jan11)(21oct15)
Chapter 9 (17April9)(21oct15)
Chapter 10 (1Dec14)
Chapter 11
Chapter 12 (22Aug9) (28Jan11) (5May11)(16May14)
Design Software Update (28apr13)
Index, CD, Software (24Feb09)